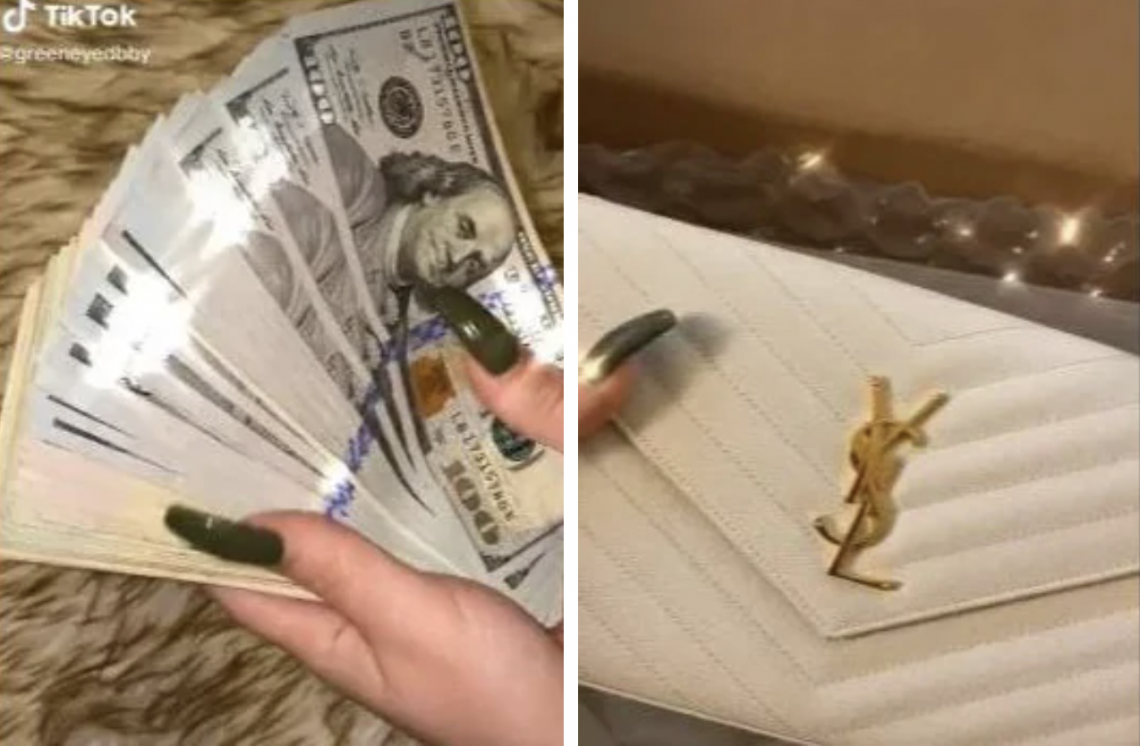 How Sugar Baby score a Sugar Daddy?
The trending hashtag, #SugarBabies, has racked up over 211.4 million views on the video sharing platform, with thousands of young women revealing how they've received designer handbags, luxury holidays and even expensive cars from men they've met online.
Lucky ladies are taking to TikTok to flaunt the wads of cash and luxury gifts they've received from older blokes – and they're giving tips on how other women can do the same.
Some of the woman even admit to sending their sugar daddies shopping lists which include $45,500 Hermès Birkin bags and Cartier jewellery – luxury items many woman would only dream of.
US-based sugar baby @greeneyedbbysa shared her tips on getting a wealthy older boyfriend. Picture: TikTok.Source:Supplied
She showed off wads of cash. Picture: TikTok.Source:Supplied
And a designer handbag. Picture: TikTok.Source:Supplied
In one clip, a US-based sugar baby @greeneyedbby admitted the secret to scoring a rich man is figuring out a "niche", not using your "government name", and pretending you already have the "lifestyle you want".
Tips that clearly worked for her as another video shows the woman flaunting several expensive gifts including Cartier jewellery, a Yves Saint Laurent clutch bag and a pair of Christian Louboutin shoes – plus a huge wad of hundred dollar bills.
"Keep your bio short and sweet," she advised, "but not boring. It's important to describe your ideal date, but show your personality.
"Don't say you prefer quiet nights in with a glass of wine and a good book if you're posting pictures of yourself out drinking with your girls," she also said.
"But you don't want to tell them too much because of safety, plus you won't have anything to talk about later."
She also said "your bio should be niche/aesthetic" and should reflect the "type of sugar daddy" you're looking for.